See on Scoop.it – Interesting News in General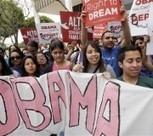 The United States Department of Agriculture has been working to dispel immigrants' concerns that getting on food stamps will harm their chances of becoming U.S. citizens.
Scott Bergman's insight:
Why the fuck are we giving food stamps to illegals? People say "oh they are not a drain on taxpayers", they say "all they do is jobs we don't want". Bullshit! I'm paying for them to eat while they send all their money home to mexico, and then they steal their conveniences.
See on dailycaller.com