See on Scoop.it – Freedom and Rights in America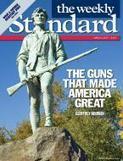 President Obama said that 'you can't do things by yourself' at a speech today in Virginia:

'You know, the one thing about being president is, after four years, you get pretty humble.
Scott Bergman's insight:
You got that wrong boob, we can do things by ourselves, but YOU as president cannot. Took you long enough to realize it. A great big round of applause goes out to our founding fathers.
See on www.weeklystandard.com