See on Scoop.it – Interesting News in General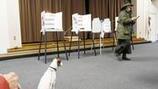 A bicyclist who killed an elderly pedestrian while racing through a busy San Francisco intersection nearly a year ago, igniting debate about who owns open space in the famously congested city, will be tried for felony gross vehicular manslaughter.
Scott Bergman's insight:
Finally we see a bicyclist paying as a price for his ridiculous actions. I still want to see bicyclists required to carry a specific license and insurance for bike riding. Bikes should not be a vehicle of choice for people when they are not allowed to drive anything else.
See on latimesblogs.latimes.com