See on Scoop.it – PoliticsinAmerica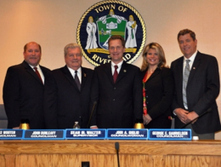 You can still boo or hiss at a basketball, baseball, or football game, but if you try it at a Riverhead town board meeting, you could be told it's against the rules.
Scott Bergman's insight:
So it's okay to express yourself as long as it makes the councilment happy, but expressing your displeasure with the crap they come up with is now against the rules. Something just not right about that. as one of the commenters on the story writes: "Still think we live in a free society where our rights aren't under attack? Now we can't boo or hiss at them… Even though we know they"re policies are wrong… Welcome to the next phase of socialism!" I think I'd agree with that commenter.
See on newyork.cbslocal.com