See on Scoop.it – Interesting News in General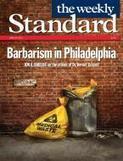 The White House today endorsed the Marketplace Fairness Act, which would be a tax hike for purchases made over the Internet. The White House claims the tax would 'level playing field for local retailers.'
'The Administration strongly supports S.
Scott Bergman's insight:
Of course they do. The Obama administration and friends won't be happy until they have 100% of everybodies money, and can then pass it out "equally"….. which is fine I guess, then I can stop working and stay home all day to play world of warcraft.
See on www.weeklystandard.com